Always consider hidden risks
​
DJ Industrials ETF (DIA): Broken Wedge?
June 14 2016 ( From TradingView, Stockcharts )
If you would like to receive our free daily markets updates, please

Sign-up
The Situation
​
Since we made almost a double top technical pattern (April 20 2016 and June 8 2016)
​on the
Dow Jones Industrial ​Average ETF DIA
, we are ​into a lower highs and lower ​
​lows technical pattern
...
​​(See 1rst Chart Below)
​
So DIA ETF is trading within a downtrend channel that started back since ​April 20 2016​.
​
​​
​(See 1rst Chart Below - Channel)
We closed on June 13 below
the 20 DMA (Day Moving Average) then at 177.23
​on the DIA ETF ​​​
(See 1rst Chart Below - Yellow Line - Ellipse)
,
but most ​importantly,
​below
the 50 DMA.​​
(See 1rst Chart Below - Red Line)
The DIA ETF broke on June 13 2016 a Major Support Trendline from a huge rising wedge
​that started back on February 2 2016 on a rising volume. It was the first line of defense
​for Bulls
​​(See 1rst Chart Below - Red Trendline - Ellipse),
the second line of defense define by the
​200 DMA (Day Moving Average).
(See 1rst Chart Below - Green Line)

As we are broke that Major Support Trendline, in fact Bulls failed to break yet
on a relative basis (ratio of DIA ETF over SPY ETF)
the Resistance Line that started back since December 2011 as shown by the second chart below.​​ ​​​
(See 2nd Chart Below - Top Red Trendline)
But what puzzle me the most is that, a Big Divergence continue to prevail between the Dow Jones Industrial (DIA ETF) and the Dow Jones Transportation (IYT ETF): Is it a Warning from the Dow Theory?

​​​​
(See 3rd Chart Below - Industrial Candles - Transportation Blue Line)

​​


​


tatisticCode" src="Scripts/stats-tracking.js">
Dow Jones Industrials ​( DIA ETF Daily Candles )
​20 DMA

( Yellow Line )


​50 DMA (

Red Line

)​


200 DMA

( Green Line )​

DJ Industrials ETF (DIA): Broken Wedge? $DJA #investing #dowtheory #SP500 #dowjones
Daily Ratio ( Blue Line )
​Dow Jones Industrials ​( DIA ETF )
over
SP500 Index ( SPY ETF )​​
​20 DMA ( Yellow Line )
​50 DMA ( Red Line )​
200 DMA ( Green Line )​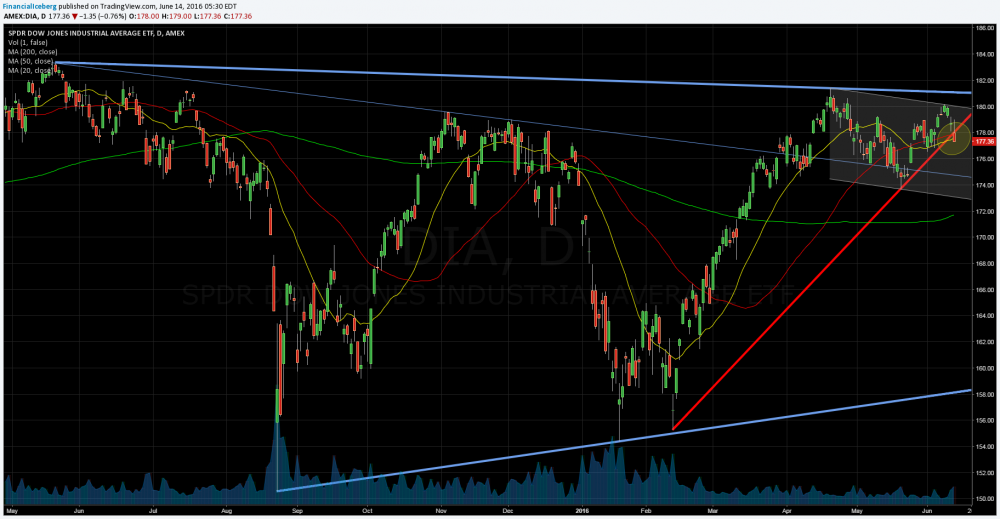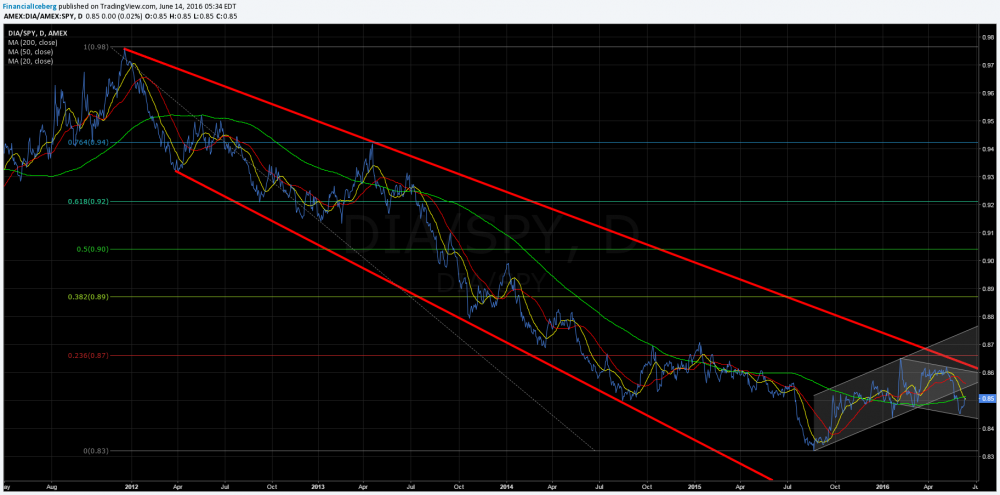 Dow Jones Industrials ​( DIA ETF - Candles )
and
Dow Jones Transportation ( IYT ETF - Blue Line )​​