Always consider hidden risks
​
US Dollar Index and SP500: A Stealth Move?
July 20 2016 ​( From TradingView , CNN)
If you would like to receive our free daily markets updates, please

Sign-Up
The Situation
​
​​​​In these Greedy times (good to know that​​ the Fear and Greed Index
​from CNN Money is coming from the Fear Zone three weeks ago to the
​Extreme Greed Level now at 87).
It is interesting to look the behavior
​(correlation) ​of the US Dollar ​​(USD-DXY) ​and the Mighty ​SP500 Index.
​​​​As shown by the chart below, this correlation tells that the risks have
​not ​started ​to be fully priced into the foreign exchange market yet in
​terms of volatility: expect more volatility in the US Dollar and SP500 in the next few sessions...​​
​
​​​​DXY/SP500 correlation getting near the -0.70 zone, ​indicating higher volatility ahead as history suggest...
​
(See first chart below - Middle Panel - Blue Area - Vertical Lines)
​
​​​The US Dollar Index just broke the resistance of a tiny rising wedge.
(See first chart below - Top Panel - Ellipse)
but most importantly getting near
the Major Resistance Trendline that started back since December 2 2015
(See first chart below - Top Panel - Top Grey Trendline)
: Breaking that Resistance Trendline will increase tremendously the Volatility of all US Financials Assets.
​
For the SP500 index, it started a Bullish Trend from the post-Brexit panic on June 27 2016 to make a Breakout on July 8 2016 (from a Major Resistance Trendline that started back on May 20 2015)​.

​
(See first chart below - Bottom Panel - Thick Grey Trendline)

​
But very few of us realize that for a foreigner looking at the SP500 Index on a Macro Basis (so in US Dollar Index - DXY times the SP500 Index) we did not reach yet a new high ever (highest ever was November 30 2015) but​​ very close of that resistance trendline that started back in March 2015.
​
(See Second Chart Below - Top Grey Trendline - Ellipse)
​
US Dollar Index and SP500: A Stealth Move? $SPY, $SPX, USDX #Trading #dxy #usdollar #SP500 #spy



US Dollar Index - DXY ( Top Panel )​
CORRELATION​
DXY over SP500 Correlation ( Middle Panel )
​​SP500 Index ( Bottom Panel )
​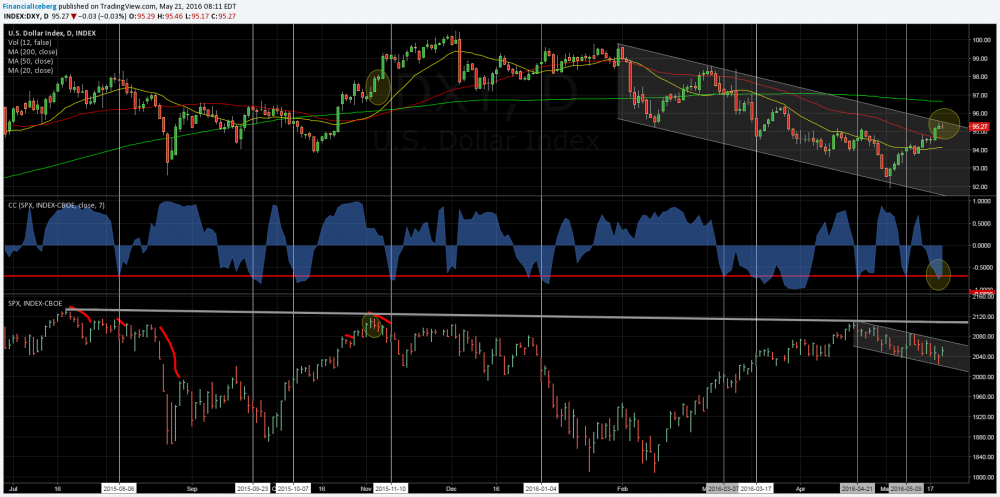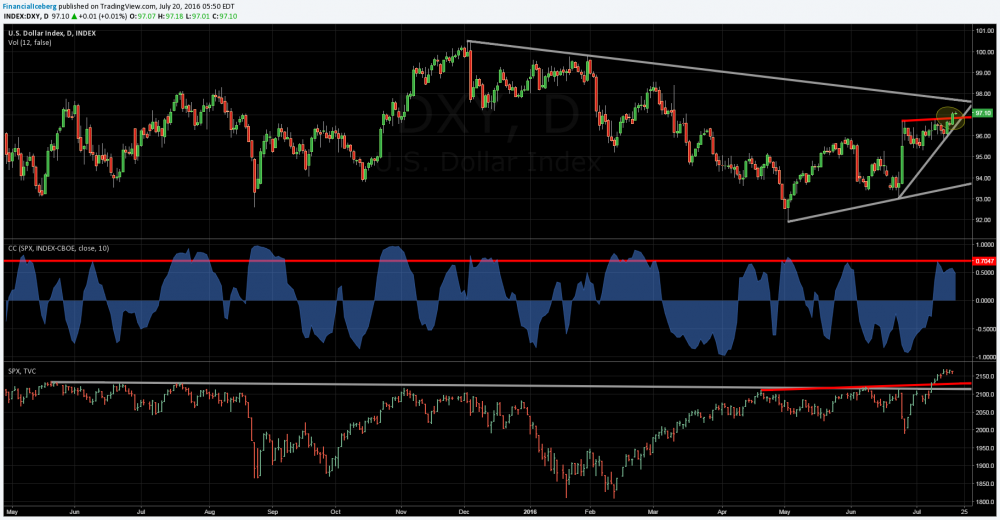 US Dollar Index - DXY
times
​​SP500 Index
​(Daily Candles)
​