Always consider hidden risks
​
US High Yield Corporate Bond ETF HYG: Rejection Risks?
​August 2 2016 ( From Tradingview, )
If you would like to receive our free daily markets updates, please

Sign-Up
The Situation
​
​​As the Chasing Yield Stampede goes on, Market Participants have
considered a come back on the US High Yield Corporate Bond after
the ​​correction at the beginning of 2016. But the short term uptrend
seems ​in jeopardy.

​​Looking especially at a Daily chart on the HYG ETF ​(iShares iBoxx ​$ High Yield Corporate Bond ETFiShares), ​we can observe that we​ ​did test ​the Major Resistance trendline that started ​back since ​​June 24 2015 and now in rejection mode. ​
(See First Chart Below - Blue Trendline - Ellipse)
Interesting to note that the Volume of the HYG ETF have been ​declining in the process of testing the resistance trendline and increasing after rejection.
(See First Chart Below - Bottom Blue Area)
​​​​​​But few of us realize that as the HYG ETF is the ultimate risk on or risk off trade as the chasing yield environment continue to defy gravity.
But looking at a Weekly chart on the HYG ETF, the rejection phase is even more obvious.

(See Second Chart Below - Red Trednline - Ellipse)
As a big part of this stock rally is coming from the Shares Buyback Process which is itself sustained by the issuance of debt to fund those buybacks. It then becomes crucial to follow the trend and liquidity of the High Yield market. From Factset: At the end of the first quarter, 146 companies in the S&P 500 spent more on buybacks in the trailing twelve months than they generated in earnings...

Read: Factset Buyback Quarterly
​​​
​
​​​We will have to monitor carefully in the next few weeks: as we can say, HYG ETF is definitively at Technical Crossroads, even defining risks for the stock market behavior....
US High Yield Corporate Bond ETF HYG: Rejection Risks? $BONDS $HYG #Trading #bonds #investing #hyg

DAILY Chart (Candles)
HYG ETF (​iShares iBoxx $ High Yield Corporate Bond ETF)
​20 DMA ( Yellow Line )
​50 DMA ( Red Line )​
200 DMA ( Green Line )​

Volume ( Bottom Blue Area )​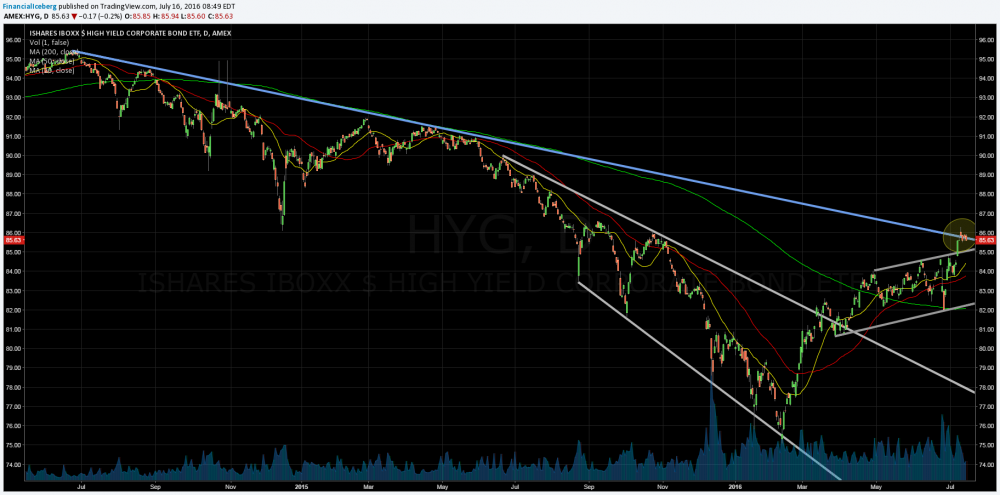 WEEKLY Chart (Candles)
HYG ETF (​iShares iBoxx $ High Yield Corporate Bond ETF)

Volume ( Bottom Blue Area )​