Always consider hidden risks
​
US High Yield Corporate Bond ETF HYG: At Technical Crossroads?
​July 18 2016 ( From Tradingview, )
If you would like to receive our free daily markets updates, please

Sign-Up
The Situation
​
​​As the Chasing Yield Stampede goes on, Market Participants have
considered a come back on the US High Yield Corporate Bond after
the ​​correction at the beginning of 2016.

​​Looking especially at a Daily chart on the HYG ETF ​(iShares iBoxx
​$ High Yield Corporate Bond ETFiShares), ​we can observe that we​
​are now testing ​the Major resistance trendline that started ​back since ​​June 24 2015.
​
(See First Chart Below - Blue Trendline - Ellipse)
Interesting to note that the Volume of the HYG ETF have been ​declining in the process of testing the resistance trendline.
(See First Chart Below - Bottom Blue Area)
​​​​​​But few of us realize that as the HYG ETF continue to defy gravity as most managers
​were quite ​bearish on US rates and corporate bonds since the beginning of the year.​. As rates all over
​the world ​continue to tumble, US rates remains one the highest quality at the
​highest rates available with still some good relative liquidity.
But looking at a Weekly chart on the HYG ETF, we have a Shooting Star Technical Pattern.

(See Second Chart Below - Ellipse)
So this week is a crucial test as we will make the difference between a Top in price or a Major Breakout for the HYG ETF.
​​​
​
​​​We will have to monitor carefully in the next few trading sessions: as we can say, HYG ETF is definitively at Technical Crossroads...
US High Yield Corporate Bond ETF HYG: At Technical Crossroads? $BONDS $HYG #Trading #bonds #investing #hyg

DAILY Chart (Candles)
HYG ETF (​iShares iBoxx $ High Yield Corporate Bond ETF)
​20 DMA ( Yellow Line )
​50 DMA ( Red Line )​
200 DMA ( Green Line )​

Volume ( Bottom Blue Area )​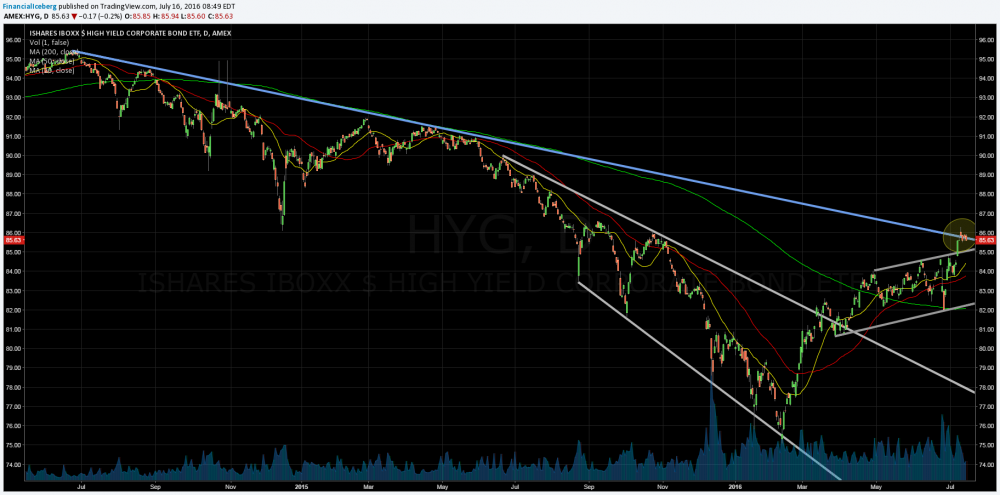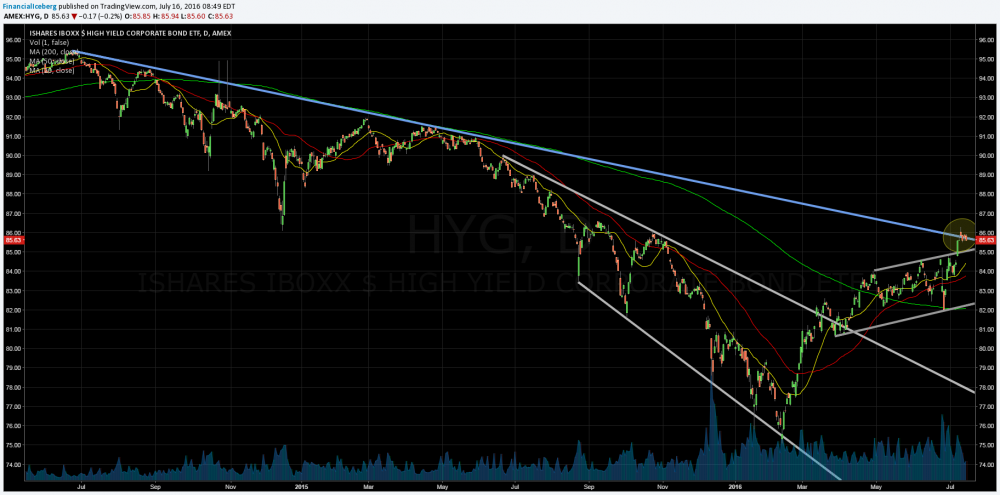 WEEKLY Chart (Candles)
HYG ETF (​iShares iBoxx $ High Yield Corporate Bond ETF)

Volume ( Bottom Blue Area )​