Always consider hidden risks
​
DJ Transportation ETF IYT: Divergence Prevail?
August 03 2016 ( From TradingView )
If you would like to receive our free daily markets updates, please

Sign-up
The Situation

​​We just start to realize how deep and quick the correction at the end of June
​was ​on Brexit fears on the ​​​​US equity market: ​From the pre-Brexit close made
​on June 23 2016 on the Dow Jones ​Transportation Average ETF IYT
(iShares Transportation Average ETF) at 138.16, to post-Brexit close 2 trading
​sessions after on June 27 at 125.94, ​a drop of 9.5%, a level reached back in
​mid-February 2016.

Rebounding from those technical levels was quite a statement ​from Mr Market
​but few of us realize that the the post-Brexit panic was in fact an opportunity
for portfolio managers to rebalance at the end of month/quarter from cash
​and bonds to stocks. Also, the relative flight to quality and liquidity was in
​strong favor of US Equities​​.

​​But the Mighty Dow Jones Transportation Average Index ETF (IYT) is keeping the same message for awhile as it keep underperforming other Major Indices that puzzle me tremendously.

Here is some Technical Observations:​​​
​
​1) From the bottom price reached on June 27 for SPY ETF to the peak reached on August 1, it was up by +9.5%; IYT ETF out rperformed with +15.5% from its previous low reached on June 27 to the previous peak
made on July 14.
(See first chart below)
​
​

​​2) That statistic above can be quite misleading: From the previous peak price for IYT ETF (reached on July 14) to the lowest price yet (reached on August 2) was -5.3% and only -0.1% for the Mighty SP500 ETF. ​​​​So a lot more volatility for the Transportation Index than the SP500 Index...


​​​​3) On August 2, IYT ETF closed -0.3% below the 200 DMA (Day Moving Average)
​(See first chart below - Green line)​
but SPY ETF still +5.5% above its 200 DMA.
​
​​​​​​​4) IYT ETF is now at the Fibonacci Retracement zone of .50% at 137.25 (From peak price on July 14 to the Low price on June 27 2016) and almost the same level on the low made in October 2014.

5) ​​On July 24 2016, on a relative basis (the ratio of Dow Jones Transportation ETF IYT ​to the Mighty Dow Jones Industrials ETF DIA) we kissed the Major Resistance Trendline that started back since September 18 2015
​​(See second chart below - Blue Trendline)​
and failed to stay break. We keep making lower highs and lower lows on that ratio, nothing tecnically bullish there. We are now getting near the Major Support Trendline, the last call for Bulls on a relative basis. ​​
(See second chart below - Red Trendline - Ellipse)​
​​6) ​​Almost the same battle with the Mighty SP500 Index on a relative basis. The ratio (Dow Jones Transportation ETF IYT ​to the Mighty SP500 Index ETF SPY) keep making lower highs and lower lows and is near testing the Major Support Trendline.
(See third chart below - Red Trendline- Ellipse)​ .
​
Last time that ratio was at that zone was back in June 2013. And looking at Monthly charts on those ratios is even more frightening.
(See fourth and fifth charts below)
​As the ​​​​​Mighty DIA ETF got way over the previous peak reached on April 20 2016, the Dow Jones Transportation ETF IYT ​failed to reach yet the previous peak of April 2016; it is still into a lower highs and lower lows technical pattern, a completely different pattern than the SPY ETF and the DIA ETF.
​​​
​​
But most importantly, what puzzle me the most is that, that Big Divergence continue to prevail between Dow Jones Transportation the Dow Jones Industrials
(See six chart below)
and the Mighty SP500 Index. As the keep underperforming, it become a serious warning from the Dow Theory.
​
​​
tatisticCode" src="Scripts/stats-tracking.js">
DJ Transportation ETF IYT: Divergence Prevail? $DJT, $SPY #investing #dowtheory #SP500 #dowjonestransport
Dow Jones Transportation ​ETF IYT
​( Daily Candles )
​20 DMA ( Day Moving Average - Yellow Line )​
50 DMA ( Day Moving Average - Red Line )​​
200 DMA ( Day Moving Average - Green Line )​​


Daily RATIO ( Candles )
Dow Jones Transportation ​ETF IYT
over​
​Dow Jones Industrials ​ETF DIA
20 DMA ( Day Moving Average - Yellow Line )​
50 DMA ( Day Moving Average - Red Line )​​
200 DMA ( Day Moving Average - Green Line )​​


Daily RATIO ( Candles )
Dow Jones Transportation ​ ETF IYT
over​
​SP500 Index ​ETF SPY
20 DMA ( Day Moving Average - Yellow Line )​
50 DMA ( Day Moving Average - Red Line )​​
200 DMA ( Day Moving Average - Green Line )​​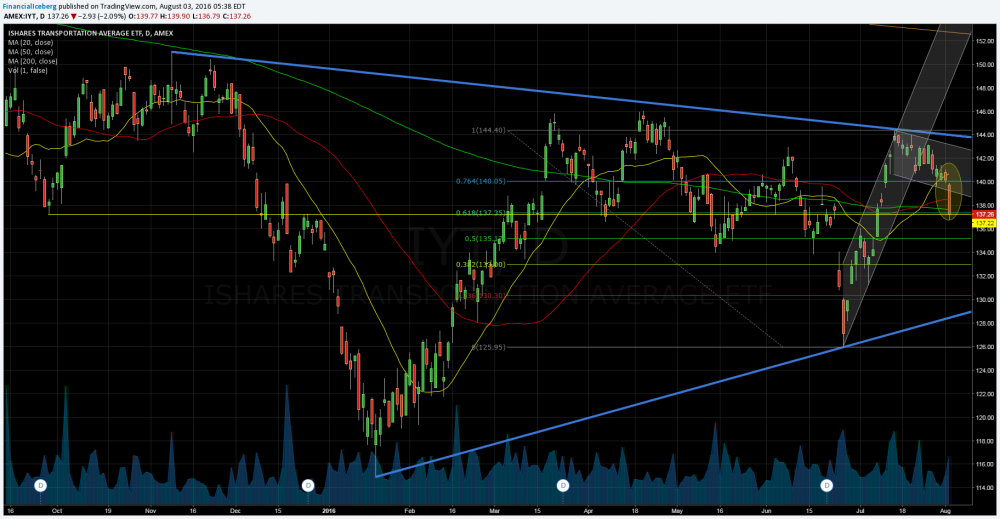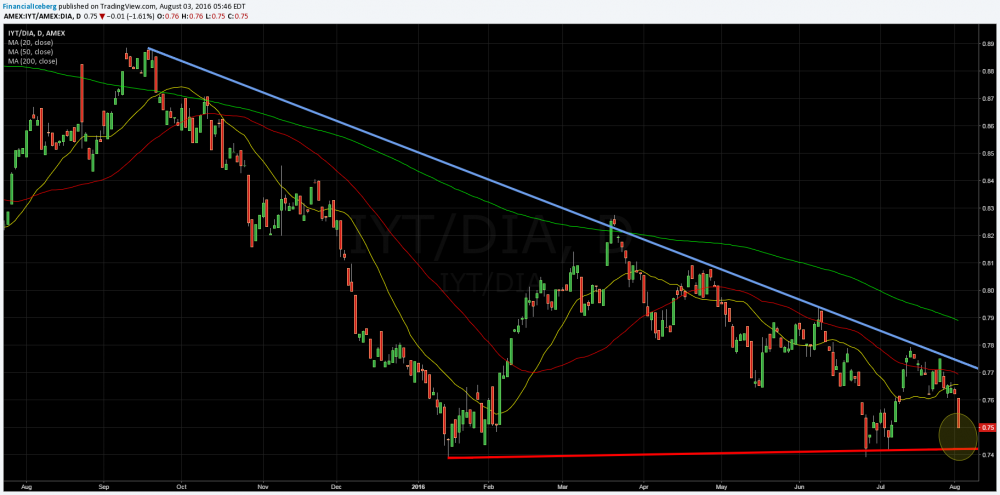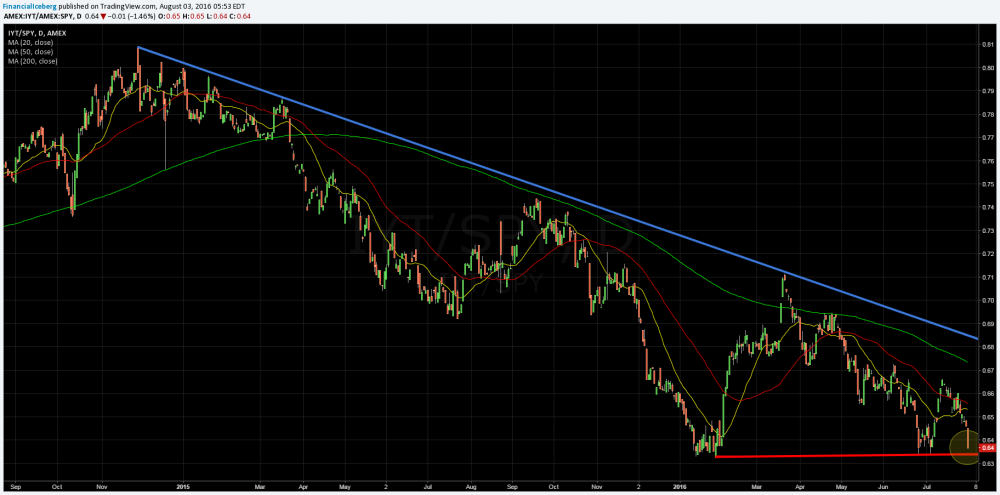 Monthly RATIO ( Candles )
Dow Jones Transportation ​ETF IYT
over​
​Dow Jones Industrials ​ETF DIA

Monthly RATIO ( Candles )
Dow Jones Transportation ​ ETF IYT
over​
​SP500 Index ​ETF SPY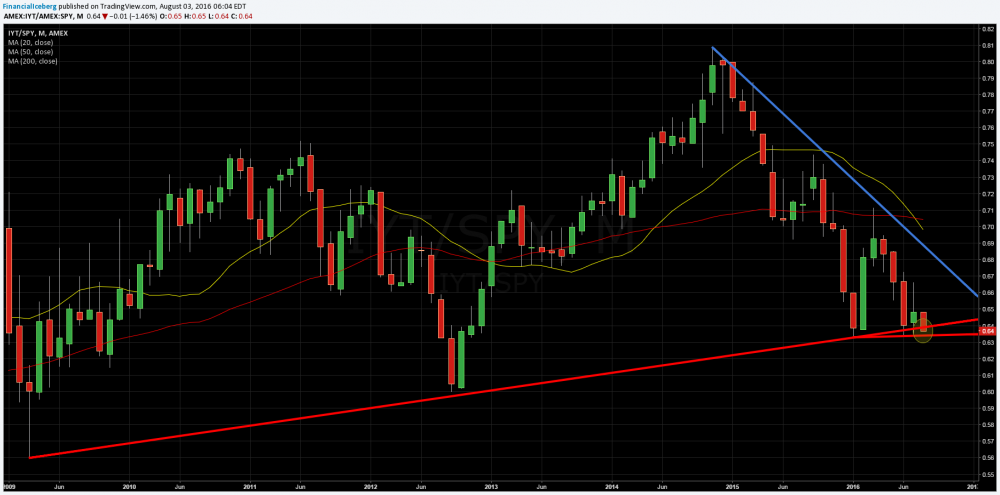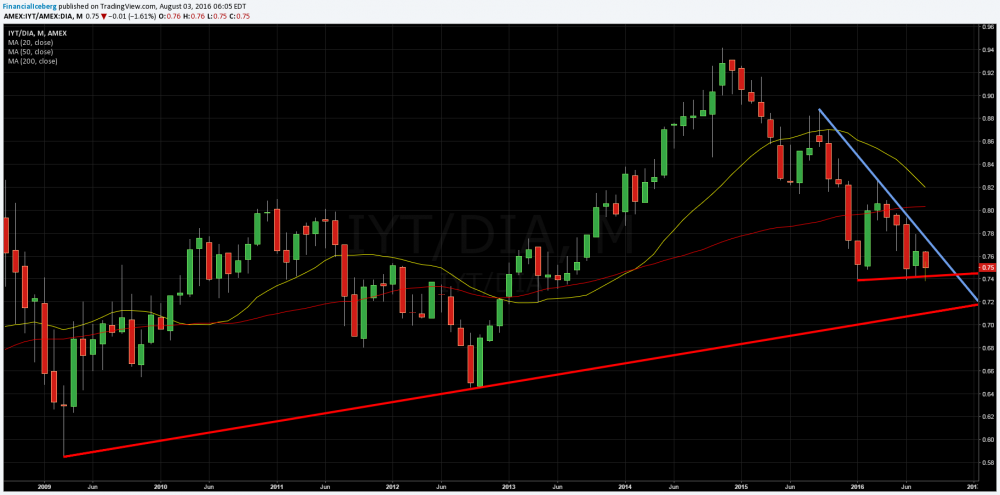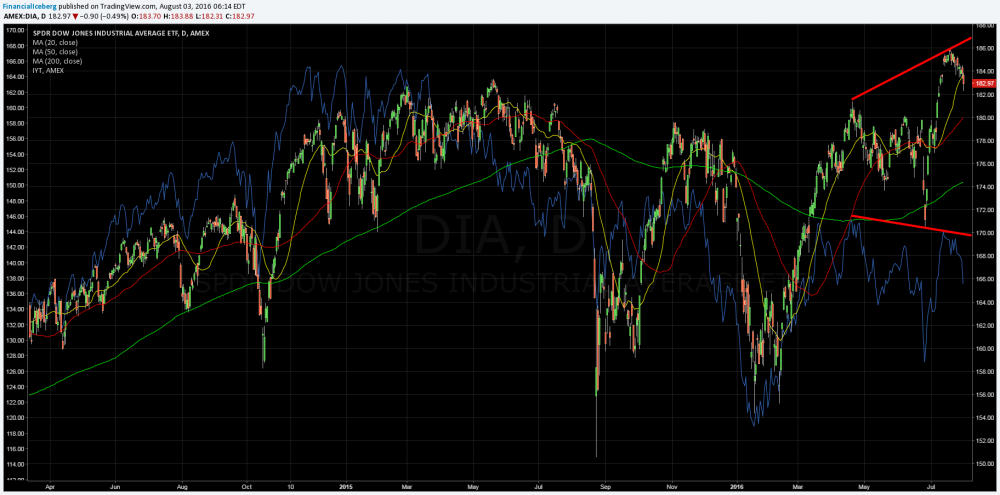 Dow Jones Transportation ​ETF IYT ( Blue Line)
Dow Jones Industrials ETF DIA ​​( Daily Candles )