Always consider hidden risks
​
Nasdaq Composite Index: In a Bad Mood?
​March 18 2016 ( From TradingView, Stockcharts.com )
If you would like to receive our free daily markets updates, please

Sign-Up
​The Situation
​
​​
​Financial assets like the SP500 Index had a very good performance
​indeed since bottoming out on February 11 2016 as even the Nasdaq
​Composite Index joined the party. Trading in a steep uptrend channel
but still far from the ​200 DMA ​( Day Moving ​Average ).
​(See 2nd chart below - Green Line)​
But few of us realize ​the strong
​under performance of the Nasdaq
​Composite Index​ ​compare to the Mighty SP500 Index (ratio) lately as we
​are retesting the Major Support Trendline that started back since April 2013 as shown by
​
the chart below.
​(Second Chart Below - Red Trendline - Ellipse)
​
But the real interesting part is looking on a relative basis the Bullish Percentage index between the Nasdaq Composite Index and the Mighty SP500 Index (ratio), we are now at the lowest level since October 2011!
​
​(See third chart below - Ellipses).
​The market do not favor the technology stocks over the broad stock market indices lately. As history repeat itself, we must acknowledge that this Support Trendline on a relative basis is the last call for Bulls for the Nasdaq Composite Index.
​(Second Chart Below - Red Trendline - Ellipse)
​​
Nasdaq Composite Index: In a Bad Mood? $COMPQ #Trading #nasdaq #investing #sp500
​Daily Chart ( Candles )
Nasdaq Composite Index
20 DMA ( Day Moving Average - Yellow Line )​
50 DMA ( Day Moving Average - Red Line )​​
200 DMA ( Day Moving Average - Green Line )​​​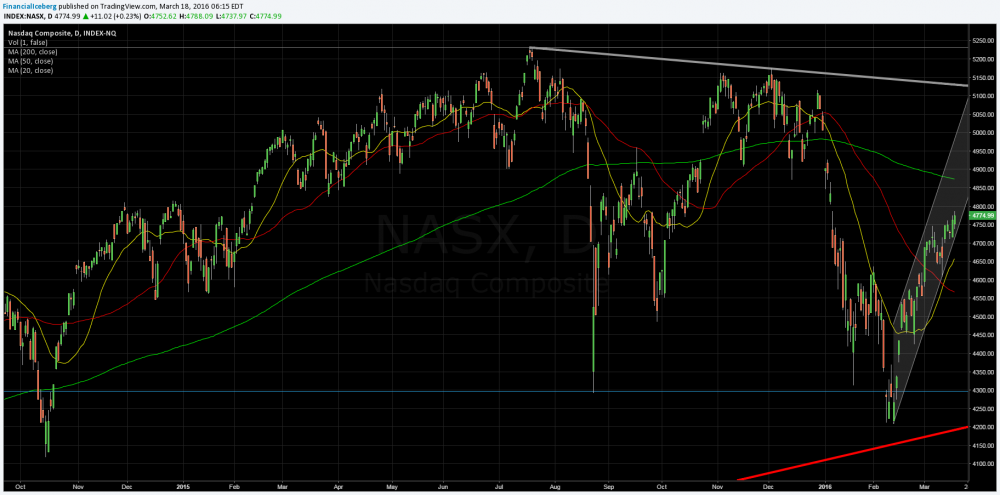 Daily RATIO
Nasdaq Composite Index
over SP500 Index
​20 DMA ( Day Moving Average - Yellow Line )​
50 DMA ( Day Moving Average - Red Line )​​
200 DMA ( Day Moving Average - Green Line )​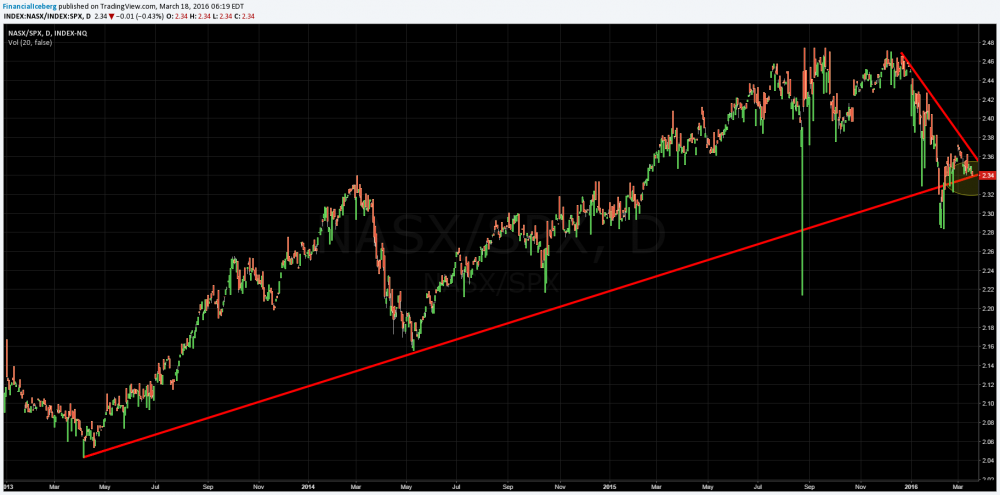 Daily RATIO
Nasdaq Composite Bullish Percentage Index
over SP500 Bullish Percentage Index
​20 DMA ( Day Moving Average - Blue Line )​
50 DMA ( Day Moving Average - Red Line )​​