Always consider hidden risks
​
Nasdaq 100 Index ETF QQQ: Runaway Train?

​August 12 2016 ( From TradingView )
If you would like to receive our free daily markets updates, please

Sign-Up
​The Situation
​

​​​
​Financial assets like the SP500 Index (SPY ETF) had a very good ​
​performance ​indeed ​since bottoming out on February 11 2016 as even
​the Nasdaq 100 Index (QQQ ETF) ​joined the party and since June 24,
​QQQ ETF is Outperforming the Mighty SPY ETF Tremendously.
​​Trading now into a Tiny Steep Uptrend ​channel for QQQ ETF and Bulls
need to protect the Support of that Channel at all costs.​
​(See First Chart Below - Uptrend Channel)​

QQQ ETF is at +7.7% above the 200 DMA ​(Day Moving ​Average) as of the
​close of ​August 11 and SPY ETF is only at +6.7% above it s 200 DMA.​
​

​​But few of us realize ​the ​outperformance of the Nasdaq ​100
Index​ ​(QQQ ETF) ​compare to the Mighty SP500 Index (SPY ETF) on a relative basis since June 24 after testing a Major Support Trendline that started back since November 2008!. ​
​(See Second Chart Below - Red Trendline - Ellipse)
​
​​​The market is in favor for the technology stocks over the broad stock market indices lately. As history repeat itself, we must be aware that this Support Trendline on a relative basis was the last call for Bulls for the Nasdaq 100 Index as it was tested on June 24 and rebounded strongly sine then.
​
​
​(See Second Chart Below - Red Trendline - Ellipse)
What is quite interesting, is that the relative volatility (ratio of Nasdaq 100 Volatility Index over the SP500 Volatility Index) is almost at its lowest since July 28. As only a few big names makes this index (top 5 AAPL, MSFT, AMZN, FB and GOOG makes 35.4% of the weight on the QQQ), the QQQ ETF relative volatility won t last long at that level as we are testing the Major Support Trendline that started since June 2014...

​(See Third Chart Below - Blue TrendLine - Ellipse)
What strikes me the most, ​​is at a time were relative volatility is on the low side, QQQ ETF is making new highs price wise and is in the process of breaking a Monthly Major Resistance Trendline that started back since March 2000!. Remind me of a Runaway Train...
(See Fourth Chart Below - Red Trendline - Ellipse)
​​
Nasdaq 100 Index ETF QQQ: Runaway Train? $COMPQ #Trading #nasdaq #investing #sp500 #spy #stocks
Daily RATIO
Nasdaq 100 Index ETF ( QQQ )
over SP500 Index ETF ( SPY )
​20 DMA ( Day Moving Average - Yellow Line )​
50 DMA ( Day Moving Average - Red Line )​​
200 DMA ( Day Moving Average - Green Line )​


Daily RATIO (Blue Line)
Nasdaq 100 Index ETF Volatility (VXO)
over SP500 Index Volatility (VIX)
​20 DMA ( Day Moving Average - Yellow Line )​
50 DMA ( Day Moving Average - Red Line )​​
200 DMA ( Day Moving Average - Green Line )​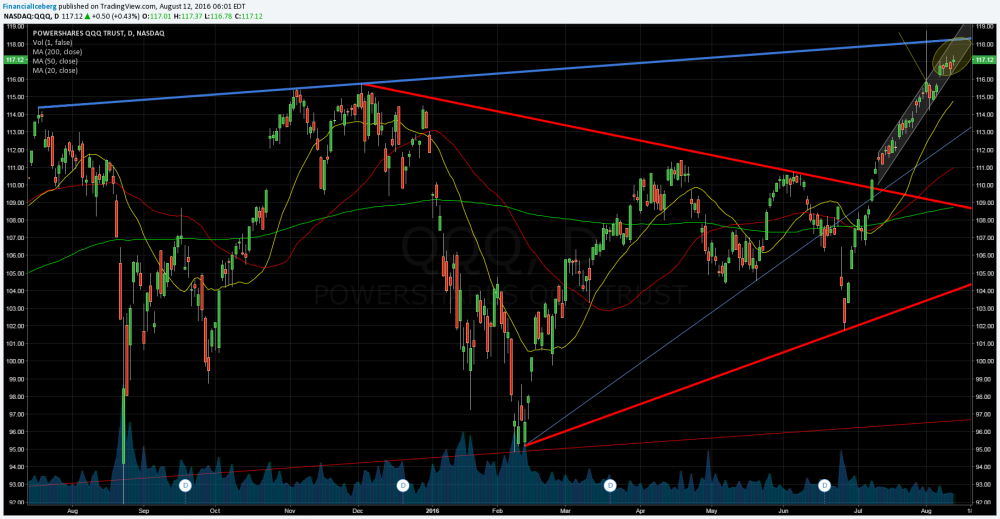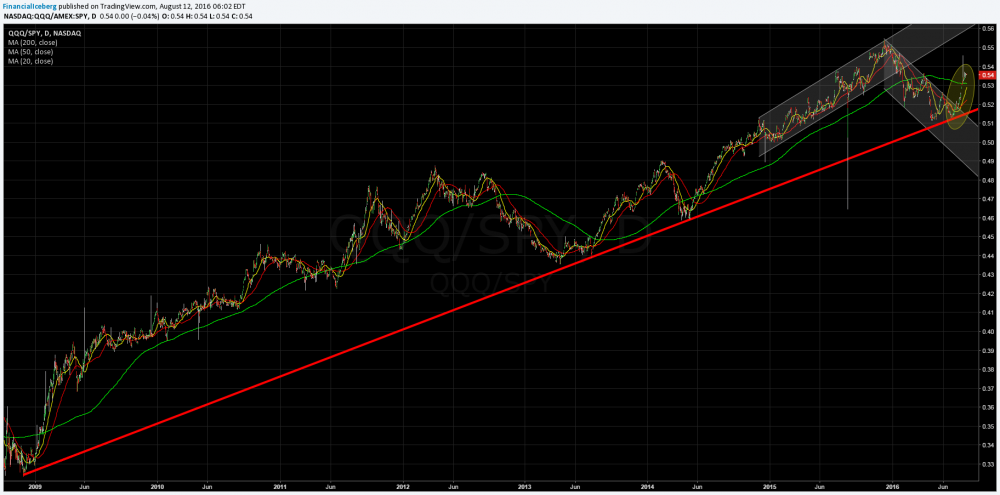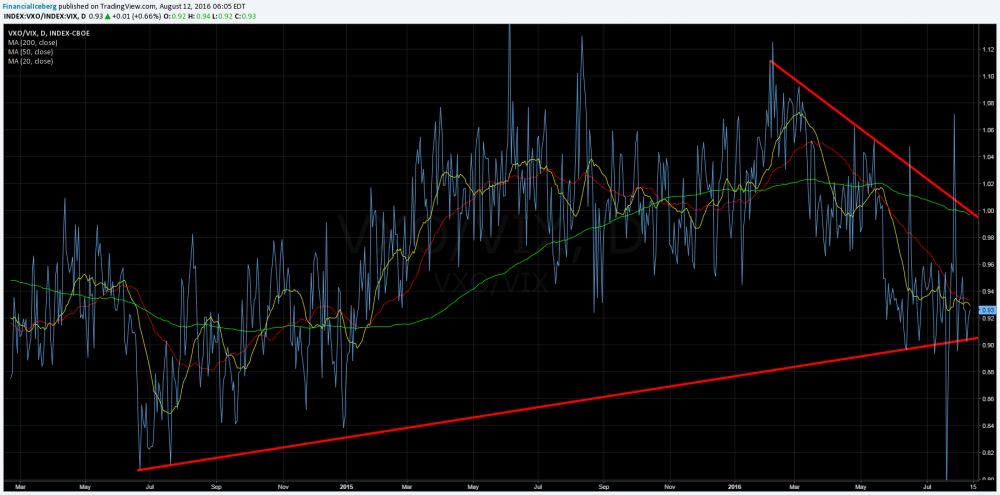 ​
Daily Chart ( Candles )
Nasdaq 100 Index ETF ( QQQ )
20 DMA ( Day Moving Average - Yellow Line )​
50 DMA ( Day Moving Average - Red Line )​​
200 DMA ( Day Moving Average - Green Line )​​​
​Monthly
Chart ( Candles )
Nasdaq 100 Index ETF ( QQQ )