Always consider hidden risks
​
A Dividend Yield Chasing Experiment
​July 18 2016 ( From TradingView )
If you would like to receive our free daily markets updates, please

Sign-Up
​The Situation


​
​​​With Treasury yields at historic lows and now starting to consolidate,
​investors have gone after yield in other segments of the market; starting
to chase after bonds yield; ​the dividend yield is often one of the places
​investors ​seek out in that chase for income. ​Financial assets like the
​dividend ​stocks ​(SDY ETF) had a very good ​performance ​indeed since
​bottoming out on ​January 20 2016.

Trading still into an Uptrend ​channel that started on March 17 2016
​and reached a new high ever on ​July 14 2016 for SDY ETF ​
(See First Chart Below - Uptrend channel - Ellipse)
​
​as SPY ETF is at 0.9% above its high ever reached on May 20 2105.

But few of us realize ​the ​out performance of the dividend yield stocks​ (SDY ETF) ​compare to the Mighty SP500 Index (SPY ETF) on a relative basis lately since we broke on February 2 2016 the Major Resistance Trendline that started back since April 2013. ​ ​
(See Second Chart Below - Red Trendline - Ellipse)
Most importantly, we broke the Major Daily Trendine on SDY ETF that started back since November 2008.
(See Second Chart Below - Amber Trendline)
​
But the real interesting and surprising part is to acknowledge also the tremendous out performance of the
​SDY ETF compare to the SPDR Barclays Intermediate Term Corporate Bond ETF (ITR ETF) on a relative basis since January 20 2016. ​
(See Third Chart Below - Ellipse)
Dividends stocks are now overvalued on a short term basis compare to corporate bond funds.
​
​​The Chasing Yield Experiment is now shifting on the Canadian side as some are willing to take the risk of the currency to find better yield. Taking the CDZ ETF as a proxy (
iShares S&P/TSX Canadian Dividend Aristocrats Index ETF
), and we compare to the SDY ETF (adjusted for the currency). To be able to observe the huge difference in performance, let s look at it now on a ratio basis.​​ What I did is taking the CDZ ETF times the Canadian Dollar Futures divided by the SDY ETF to give us a valuation from a US investor considering the Canadian Market with the currency risk. As we may observe, Valuation is one of the cheapest since 2007 as shown by the weekly chart below...
(See Fourth Chart Below)
​​The market still favor the dividend stocks over the broad stock market indices lately. Simply stated, we are again into another wave of yield chasing as investors takes more and more risks (even now including currency risks) to achieve less and less financial return. Sound familiar?
​​
A Dividend Yield Chasing Experiment $SDY #Trading #sdy #investing #sp500 #dividend #spy
​Daily Chart ( Candles )
SP Dividend ETF ( SDY )
20 DMA ( Day Moving Average - Yellow Line )​
50 DMA ( Day Moving Average - Red Line )​​
200 DMA ( Day Moving Average - Green Line )​​​


Daily RATIO
SP Dividend ETF ( SDY )
over SP500 Index ETF ( SPY )
​20 DMA ( Day Moving Average - Yellow Line )​
50 DMA ( Day Moving Average - Red Line )​​
200 DMA ( Day Moving Average - Green Line )​


Daily RATIO
SP Dividend ETF ( SDY )
SPDR Barclays Intermediate Term Corporate Bond ETF ( ITR )
​20 DMA ( Day Moving Average - Yellow Line )​
50 DMA ( Day Moving Average - Red Line )​​
200 DMA ( Day Moving Average - Green Line )​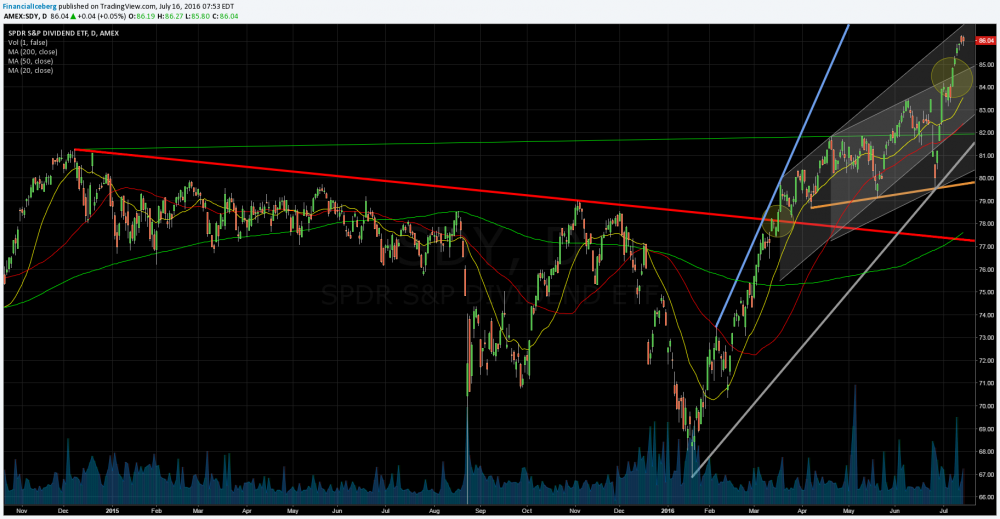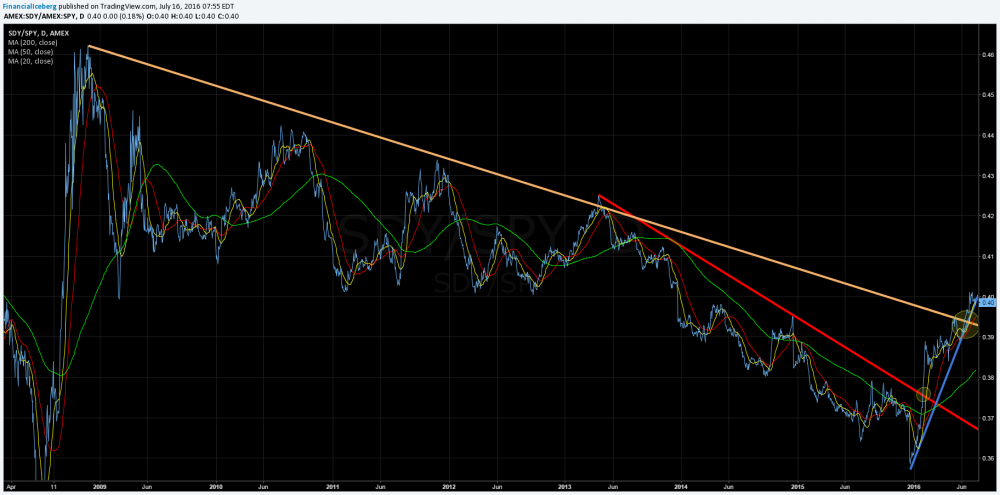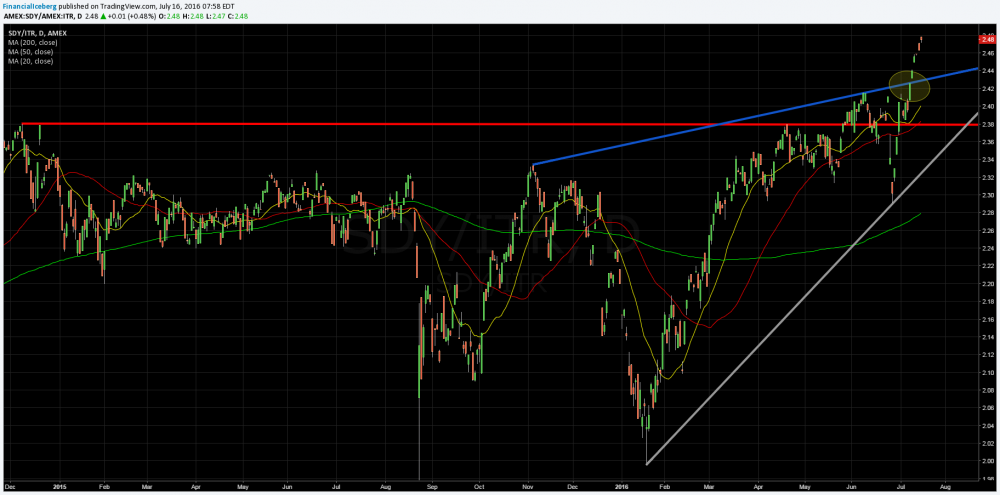 WEEKLY RATIO
Cdn CDZ ETF times the Canadian Dollar Futures
/ ​The US SP Dividend ETF ( SDY )