Always consider hidden risks
​
SP500 (SPY ETF): Atypical Market?

May 08 2017 ( From TradeView, CNN Money )
If you would like to receive our free daily markets updates, please

Sign-Up
The SP500 Index (​​SPY ETF) is back above the previous Weekly
​Break Out Trendline that is critical for Bulls and still Into a
​Weekly Uptrend Channel.
(See first chart below - Channel+ ​Blue line)
SPY ETF closed last Friday near its highest level ever (0.25%
exactly).​ Interesting to observe that the mood of the market
participants is not at the Greed Zone (according to ​as the
​Fear and Greed Index from CNN Money) but at the Neutral Level of 47.
​

​A few obervations on the market behavior and the SP500 worth noticing lately:
1) The Momentum of the market ​​is quite strong as the Momentum ETF (
MTUM
) is outperforming on a Relative Basis the SP500 Index (daily ratio of MTUM ETF over SPY ETF) since bottoming out on December 12 2016.
(See Second Chart Below - Uptrend Channel)

​
​
2) The Risk Taking behavior (according to the ratio of SP500 High Beta stocks -
S
HB
P E
TF
- to the SP500 Low Beta Stocks - SPLV ETF) is trending down after peaking post US Election on the Trumpification of Financial Markets. ​ ​
(See Third Chart Below - Top Panel - Daily Candles)
We are now testing the 200 DMA (Day Moving Average on that spread.
(See Third Chart Below - Green Line)
​
​​​​3)
​Surprisingly after the Trumpification of the Financial Markets, the SP500 Value Stocks (IVE ETF) were unable to keep the momentum going and have been under performing the SP500 Growth Stocks (IVW ETF) since December 12 2016 (daily ratio of IVE ETF over IVW ETF).
(See Fourth Chart Below)
​
4) But few of us realize ​the ​tremendous Weekly outperformance of the Nasdaq ​100 Index​ ​(QQQ ETF) ​compare to the Mighty SP100 Index (OEF ETF) on a relative basis since December 12 2016 week after testing a Major Support Trendline that started back since April 2013!. ​​(
See Fifth Chart Below - Red Trendline
) Now getting near the Major Weekly Resistance Trendline from September 2011!

What we must realize is that the market is full risk on, it is behaving quite into an atypical manner: The market is having a strong Momentum but the Mood from Market Participants is not at the Greed Level. High Betas Stocks under performing Low Betas Stocks. Also, Value Stocks do not perform well compare to Growth Stocks. Small Capitalization Stocks not doing well against Big Capitalization Stocks.

​​In fact, the market is full Risk On and embracing one main investment theme here: Big Capitalization Technology exposure stocks (Technology, Social Media, Internet...)
SP500 (SPY ETF): Atypical Market? $SPY #Trading #risk #spy #investing #stocks
Weekly Chart
​SP500 Index ( SPY ETF - Top Panel - Candles )
​SPY ETF Volume ( Bottom Panel - Blue Area )​​

Daily RATIO
High Beta (SPHB) - Low Beta (SPLV) ETFs​ ( Candles - Top Panel )
​SP500 Index ( SPY ETF - Candles - Bottom Panel )​
​20 DMA ( Day Moving Average - Yellow Line )
50 DMA ( Day Moving Average - Red Line )​​
200 DMA ( Day Moving Average - Green Line )​​​


Daily Ratio (Candles)
MTUM ETF (iShares Edge MSCI USA Momentum Factor ETF)​
over
SP500 Index (​​SPY ETF)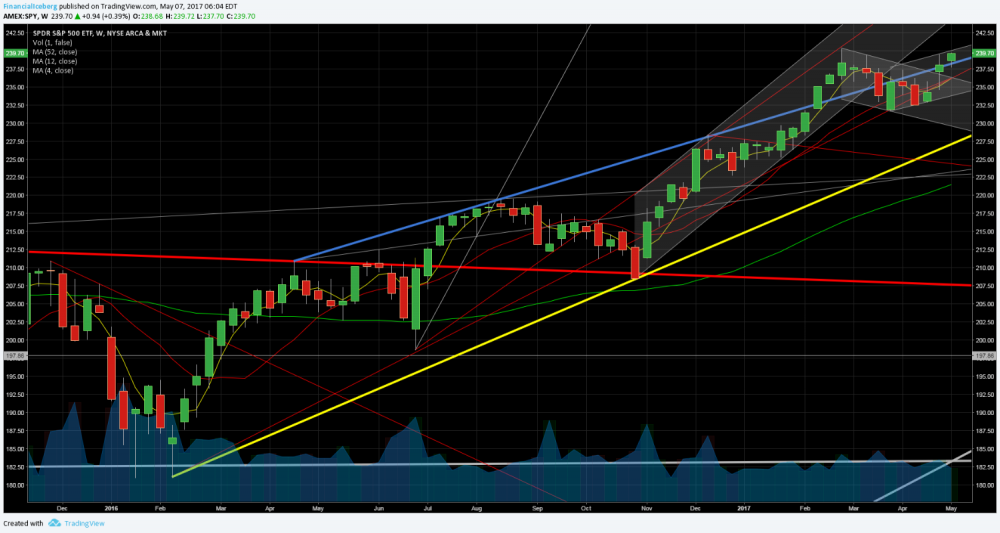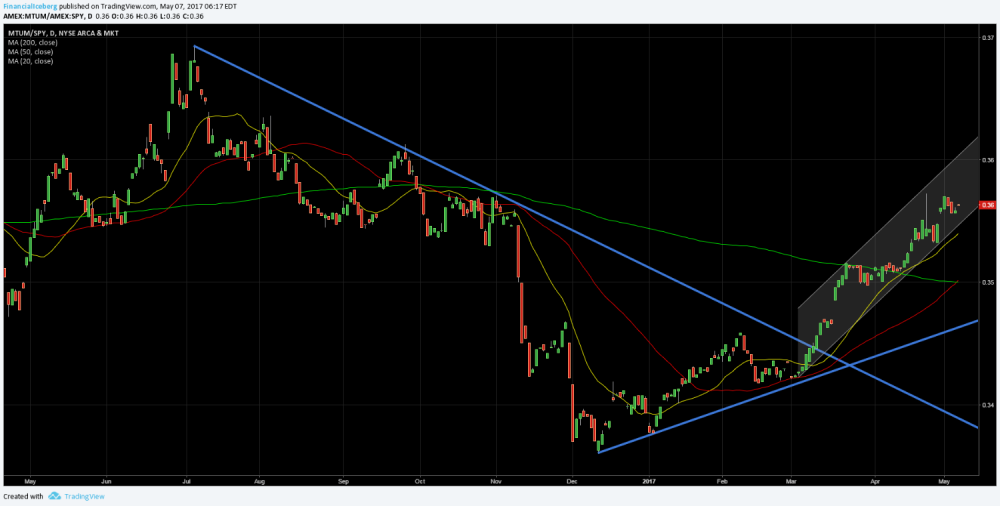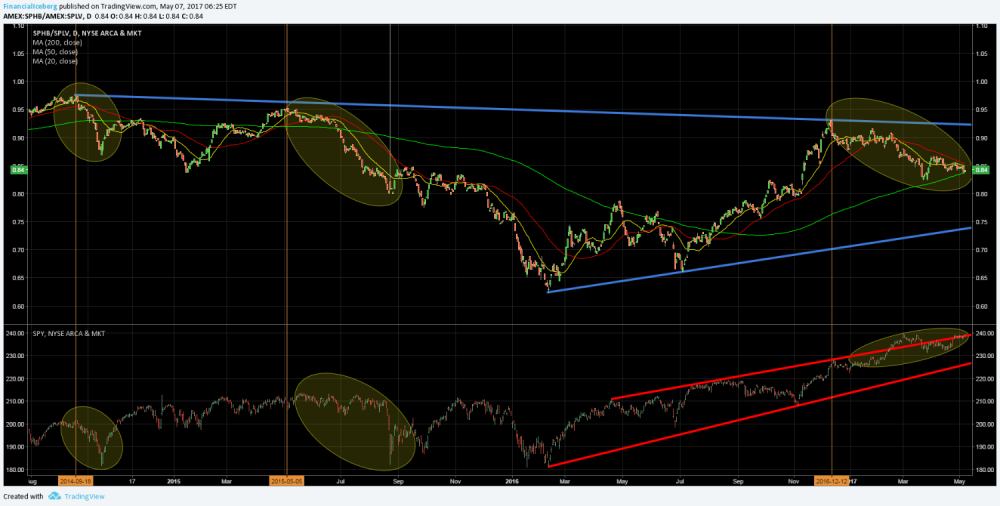 Daily RATIO (Candles)
SP500 Value Stocks​ (IVE ETF)
over​
​SP500 Growth Stocks (IVW ETF)​
​20 DMA ( Day Moving Average - Yellow Line )
50 DMA ( Day Moving Average - Red Line )​​
200 DMA ( Day Moving Average - Green Line )​​​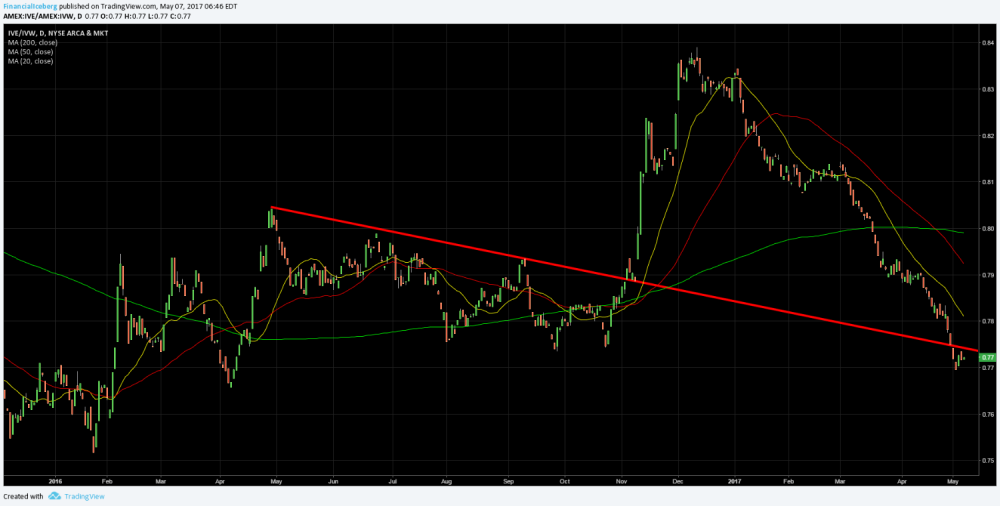 Weekly RATIO
Nasdaq 100 Index ETF ( QQQ )
over SP100 Index ETF ( OEF )
​4 DMA ( Week Moving Average - Yellow Line )​
12 DMA ( Week Moving Average - Red Line )​​
52 DMA ( Week Moving Average - Green Line )​