Always consider hidden risks
​
Technology Sector ETFs: Melt Up Phase?
September 07 2016 ​( From TradingView )
If you would like to receive our free daily markets updates, please

Sign-Up
The Situation
​
The
Technology Sector ETF
is within a Melt Up Phase since June 27.
​​Here is some Technical Observations:​​​
​1) The XLK ETF is now at 15.3% from its previous bottom (Brexit) ​reached on
​
​June 27
​2016 ​​and SP500 Index (SPY ETF) is at 10.2%​​​​.
​
​​​2) On july 8 2016, as the the XLK ETF made only a tiny Breakout
(See First Chart
​Below - Thick Blue Trendline
), the SPY ETF was ​under a ​Major Technical Breakout from
​a May 20 2015 earliest peak price.
3) The ​XLK ETF is catching up tremendously as the Major Breakout from the Resistance Trendline that started back from March 2 2015 finally happened yesterday. ​​
(See first chart below - Grey Line - Ellipse)
​
​Bulls need from now to protect that Trendline (that become Support) at all costs.
​
As shown by the second chart below (Weekly Chart), we are now getting of the Resistance of a Major Uptrend Channel that started back since March 2009. The XLK ETF is making 20.8% of the Sector Allocation of the SPY ETF, it is dragging up the performance of the broad market.

I decided to take a few Technology ETFs to show you how strong the Technical Melt Up Phase in some sub category of the broad ETF XLK:
​1) IGV ETF (iShares North American Tech-Software ETF): Break Out mode from rising wedge. Third Chart Below
2) SKYY ETF (​First Trust ISE Cloud Computing Index Fund): Near Resistance or Uptrend Channel. 4rth Chart
​3) SOCL ETF (Global X Social Media Index ETF): Runaway Gap near Resistance. 5th Chart Below
​4) SMH ETF (VanEck Vectors Semiconductor ETF): Within a Steep rising wedge. 6th Chart Below
5) ROBO ETF (​ROBO GLOBALROBOTICS & AUTOMATION INDEX ETF): At resistance. 7th Chart Below
6) PSCT ETF (​PowerShares S&P SmallCap Information Technology Portfolio): Breakout. 8th Chart Below.

We may look at other ETFs like FDN or ​​ARKQ or PSI or PSJ; they all in Melt Up Phase. As this speculative behavior may last longer, probably. One thing is sure is that the Industrials are phased out by the Tech...

​​​​​
Technology Sector ETFs: Melt Up Phase? $XLK ​​​#trading ​​​#xlk ​​​#sp500 ​​​#technology #investing
Technology Sector Fund ETF XLK ​( Daily Candles )
​20 DMA ( Day Moving Average - Yellow Line )​
50 DMA ( Day Moving Average - Red Line )​​
200 DMA ( Day Moving Average - Green Line )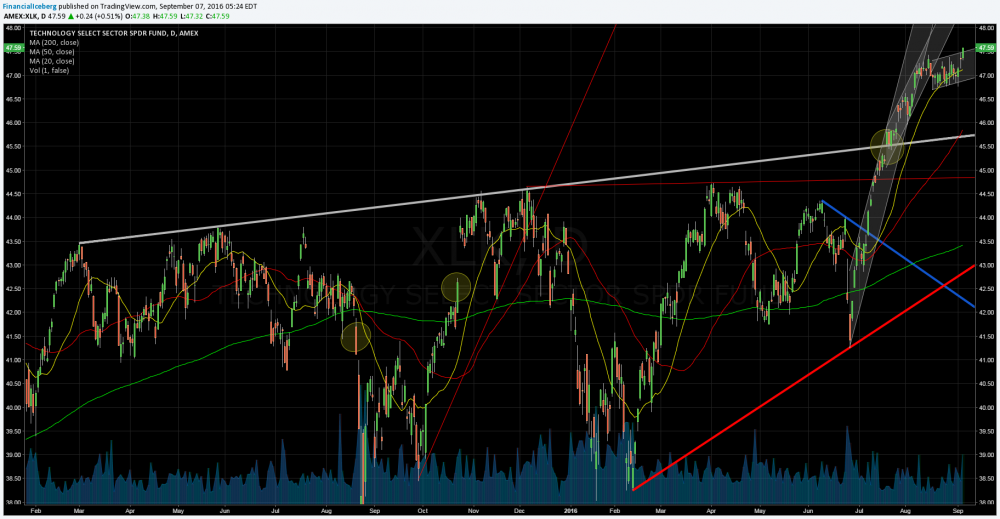 Technology Sector Fund ETF XLK ​( Weekly Candles )
​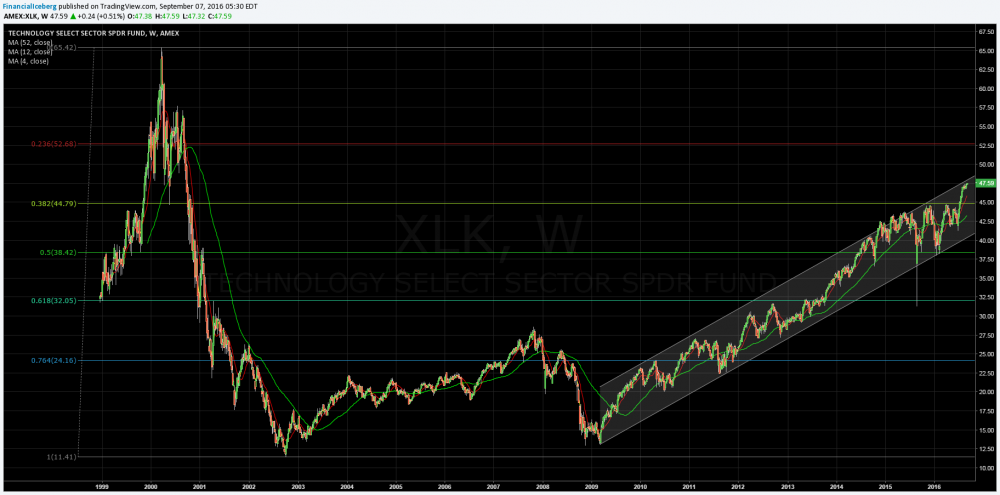 IGV ETF
​( iShares North American Tech-Software ETF )
​​( Daily Candles )
​

SKYY ETF
​( First Trust ISE Cloud Computing Index Fund )
​​( Daily Candles )
​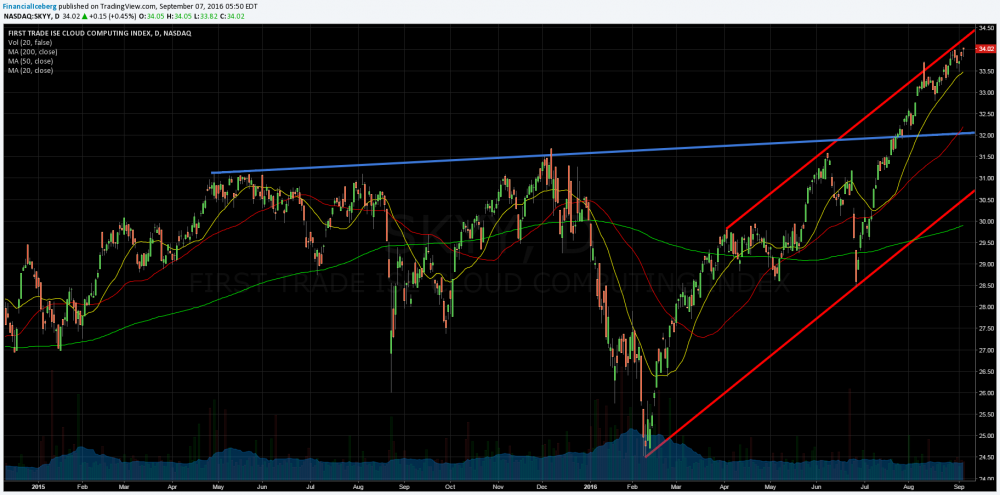 SOCL ETF
​( Global X Social Media Index ETF )
​​( Daily Candles )
​

SMH ETF
​( VanEck Vectors Semiconductor ETF )
​​( Daily Candles )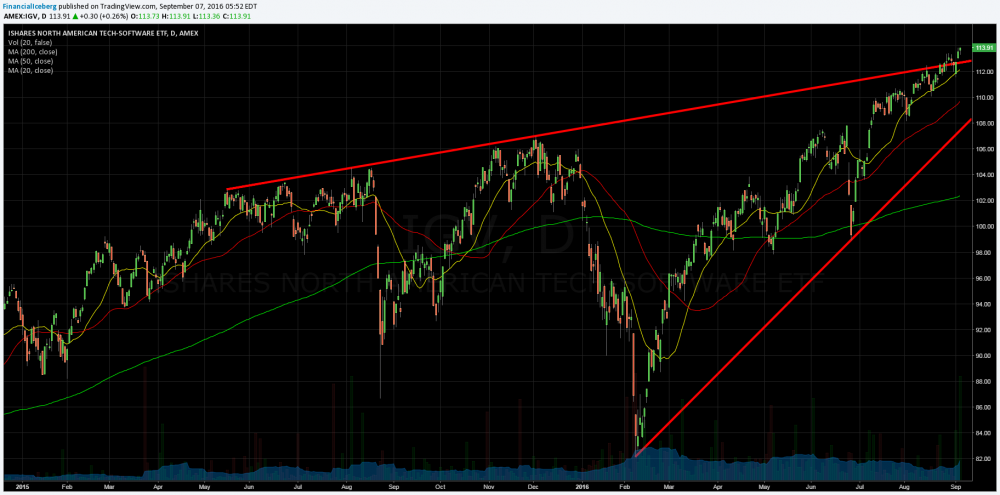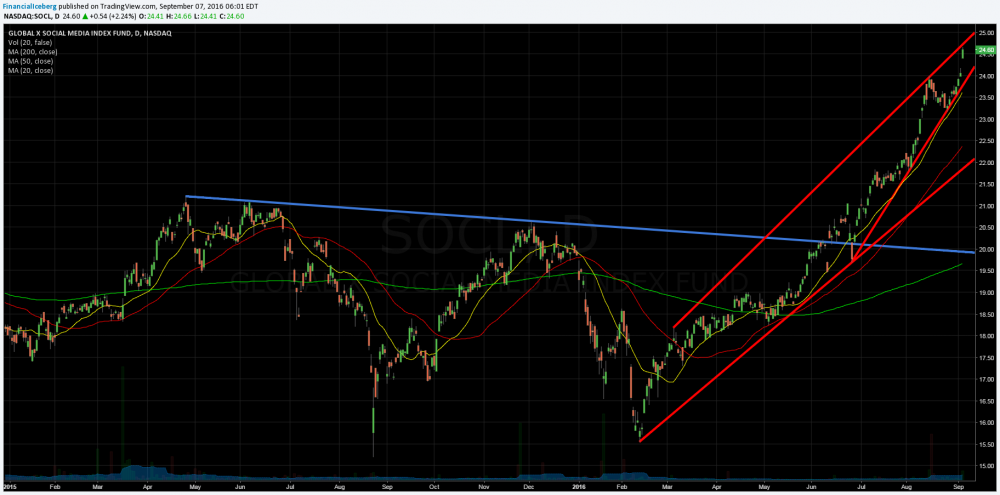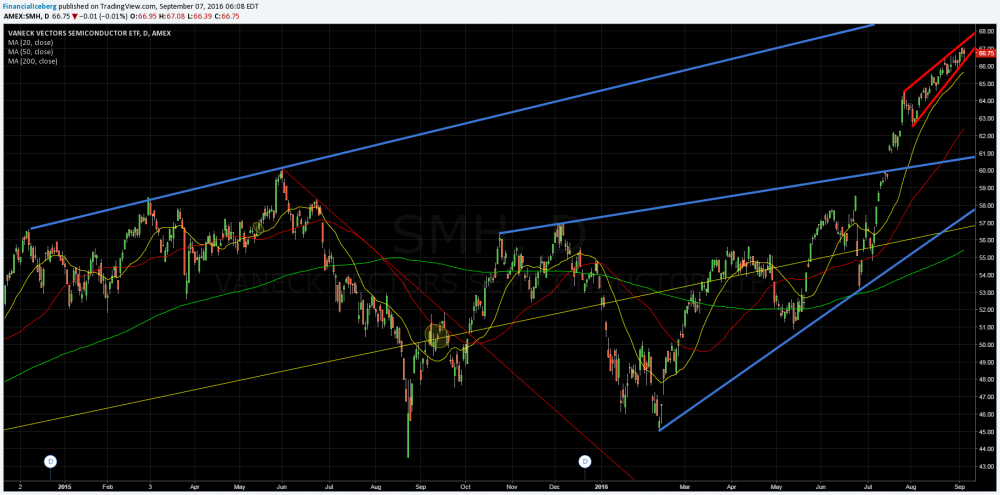 ROBO ETF
​( ROBO GLOBAL ROBOTICS &
​AUTOMATION INDEX ETF)
​​( Daily Candles )
​

PSCT ETF
​(PowerShares S&P SmallCap
​Information Technology Portfolio )
​​( Daily Candles )