Always consider hidden risks
​
Financial Sector (XLF) : 200 DMA Broken?
​
June 15 2016
​
( From Tradingview )
If you would like to receive our free daily markets updates, please

Sign-Up

​​​The Situation
​
​
​​​​​​
​​The Financial Sector (XLF ETF)​ previous peak was made on May 31 then ​at 23.93,
​level last seen on December 31 2015.​
​​( See 1st chart below )​
And since then, the XLF ETF
​is within a lower ​highs and lower lows technical pattern.​
​
The XLF ETF test at the end of May 2016 a Major Resistance Trendline that started
​back since July 23 2015​​ and was rejected.
​
(See first chart below - Thick Red Trendline)​

On June 14 2016, it did close below​ the 200 DMA ​(Day Moving ​Average),
​a bad omen for Financials.
​
​​But the most interesting Technical Factor for me, is that the Financials are underperforming the Mighty SP500 Index (Ratio of XLF ETF over SPY ETF) since May 31 2016 but mostly failed to get over the previous breakdown support line on a relative basis.
​
(See second chart below - Thick Red Trendline)​
​​
​​​
​
​There is many reasons the Financial Sector trade poorly but 2 comes pretty easily:
1) Lower Interest rates and a flatter curve is crushing the net interest margin of US banks.​
(See third chart below)​

so the best set up for them is higher rates and a steeper curve.
​​2) Negatives rates and a poor economic trend are crushing the European and Japanese Financials.
​
(See fourth chart below)
​
​
​​​​​​
.

​​
​​
Financial Sector (XLF) : 200 DMA Broken? $SPY, $XLF #Trading #Investing #xlf #SP500


Daily RATIO
Financial Sector (XLF)
over SP500 Index (SPY ETF)
​20 DMA ( Day Moving Average - Yellow Line )​
50 DMA ( Day Moving Average - Red Line )​​
200 DMA ( Day Moving Average - Green Line )​

Financial Sector (XLF) - Daily Candles
​20 DMA ( Day Moving Average - Yellow Line )​
50 DMA ( Day Moving Average - Red Line )​​
200 DMA ( Day Moving Average - Green Line )​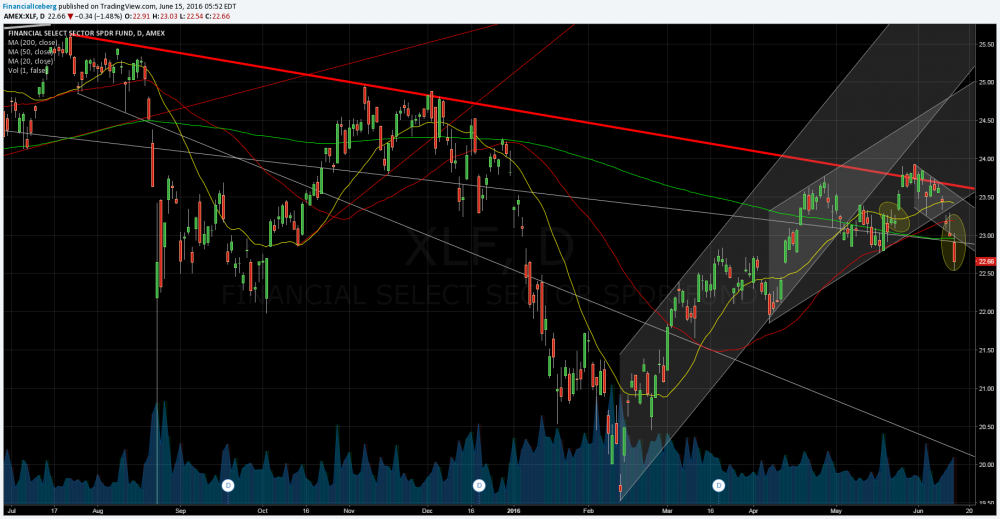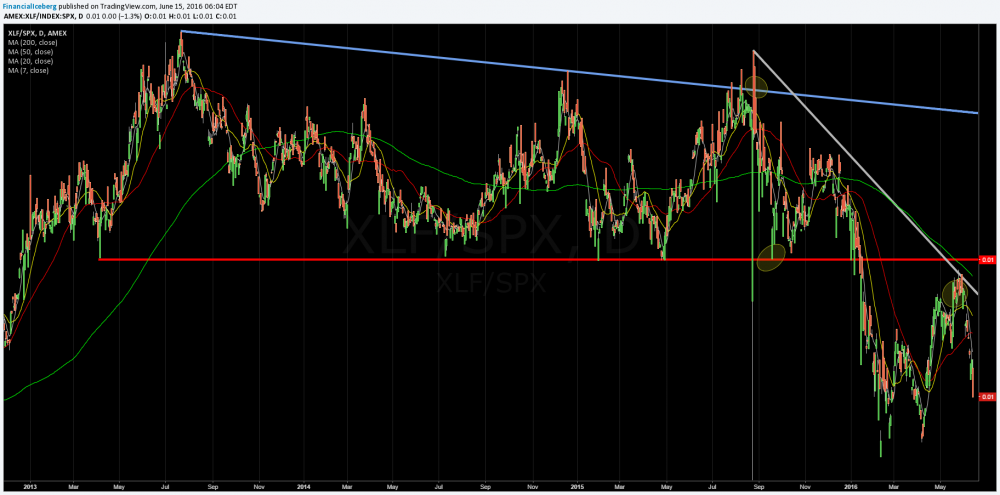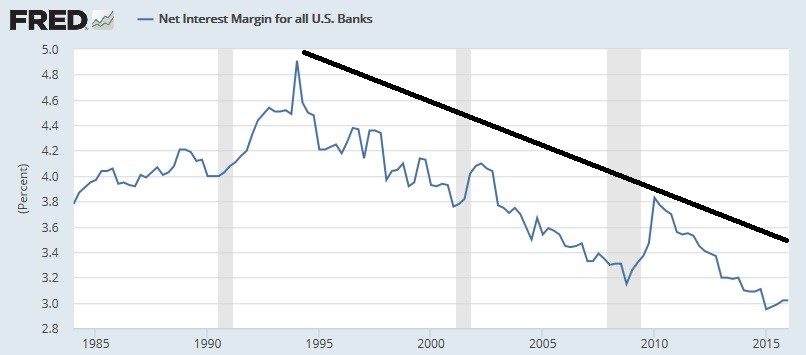 Net Interest Margin
​for all U.S. Banks
in percentage (Quarterly)​

Daily Chart
Europe Financial Sector EUFN (iShares MSCI Europe Financials ETF - Candles)
and
Japan Financial Sector (WisdomTree Japan Hedged Financials Fund ETF - Blue Line)​
​
​